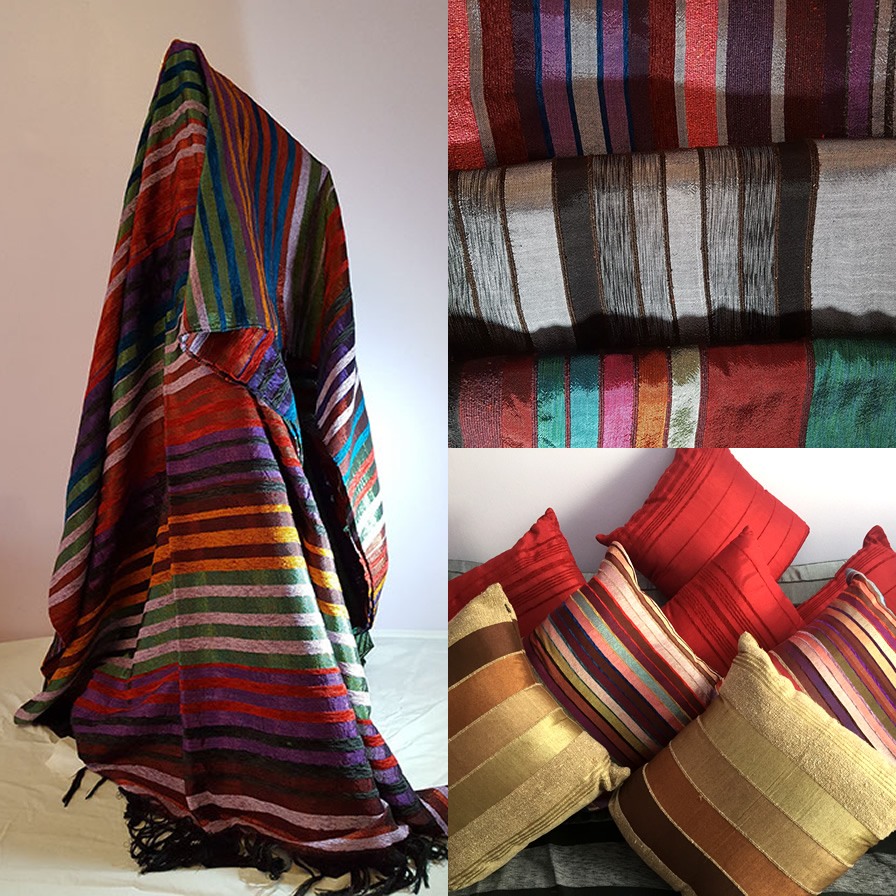 Sabra silk is made from the unusual Sabre - cactus silk. This silk is also known as Agave or vegetable silk.The fibres once collected from the plant, are spun and then woven to make silk thread. The thread is then dyed in different colours. The coloured thread is then hand loomed in Morocco, by Fairtrade craftsmen who have learned their trade from generations of artisans. Each throw is unique and no two throws are the same. They may look similar but there will be differences in the combination of colours used to create each throw.To keep the sabre silk threads in place, chenille velvet is often used between the threads or stripes of threads.
I have the facility to have curtains or cushions made if required. I have a wide variety of colours and thicknesses of fabric. The throws displayed on the site are examples of the stock I hold.
If you provide me with the colour scheme you are working with, I can send you photos of examples of the throws I have currently in stock. If you have any further questions or requirements please let me know.
Sabra Silk Throws & Cushions
Although the fabric is silk it can still be machine washed at 30 degrees or if you prefer dry cleaned.
The fabric is beautiful and very versatile. The throws can be used as they are to cover a bed, settee or arm chair, or can be used as wall hangings.
Cushions come in a selection of colours. However if you prefer you can purchase a throw of your choice and I can have cushions made for you.
The measurements of the cushions I have in stock are 45cms (18") square.
Please get in touch to discuss your requirements.
How to purchase an item
Simply complete the form below, including the product type, colour and quantity you are interested in, and I'll get back to you to arrange the transaction & delivery.
You can also purchase through my Facebook page. Click here for more information.
Credit cards accepted